We're extremely happy to announce that Praxis has acquired Grace Frank.
In a bold opening move, we've bought out and merged with Grace Frank to form a new, exciting London accounting firm. The new practice will keep Grace Frank's focus on working with ambitious, owner-managed businesses, while bringing the expertise, knowledge and client service skills of Praxis' three partners to the table.
Christopher Blunn, Alexander Shall and Pete Heslington set up Praxis after many successful years as partners at a Top 15 accounting firm. Joining forces with Morisha Christy, founding partner at Grace Frank, and her experienced team of accounting professionals is the first step in the evolution and growth of the Praxis firm, but this joint venture is one that's very much happening between trusted friends, as Praxis co-founder, Christopher Blunn, explains:
"I've known and worked with Morisha for years, so this was a very friendly acquisition. We're working together and hopefully growing the practice together, based around our common values of Honesty, Collaboration and Pragmatism, and our love of working with the UK's best owner-managed businesses. By acquiring Grace Frank, Praxis is now a firm of three partners, alongside the guiding hand of Morisha, three staff and five consultants. Myself, Alex and Pete couldn't wish for a better start to the opening chapter in the Praxis story."
Building Grace Frank's legacy into the Praxis brand
Grace Frank had spent the past eight years building a solid portfolio of corporate clients in the UK SME space, working with owner managers who share their enthusiasm for great working relationships and a passion for true innovation in business. Several acquisition offers were on the table, but Praxis and Grace Frank seemed the ideal synergy for Moira Christy, as she highlights:
"Accepting the offer from Chris, Alex and Pete was a no brainer. Having previously worked with Chris, it gives the merger some real continuity. He knows a lot of my clients, a lot of my clients know him, and many of my staff have worked with him. So this really feels like a safe place, with partners who understand my staff, my clients and my whole ethos. Grace Frank comes from my grandparent's first names, so it's sad that the Grace Frank brand itself will end, but our ideology lives on in other ways through the creation of Praxis. I'm tied into the practice and have a new renewed enthusiasm, so I'm excited about the future with Praxis and beyond."
Collaboration and innovation in the cloud
With private space in the WeWork office development at the iconic, James Stirling-designed No. 1 Poultry, Praxis is very much a London firm, but with a client base that's spread across the UK and beyond. Praxis is also resolutely a cloud practice, based around Xero and AccountancyManager and using all the relevant Xero-integrated apps to offer remote working, collaborative online meetings and in-person conversations – with fully Covid-secure spaces at the firm's London base.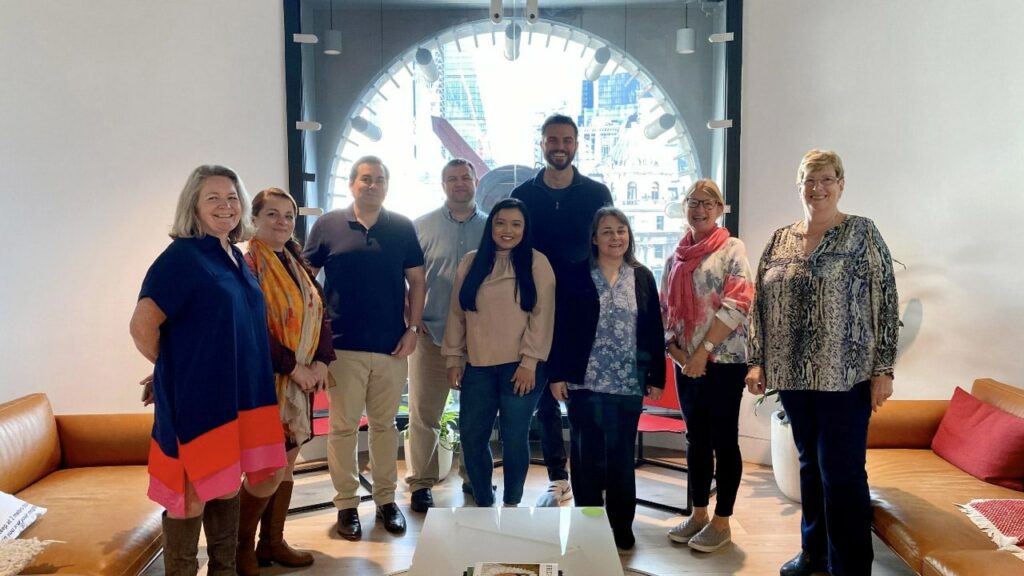 We're aiming to expand on our specialism in professional practices and will continue to work with enterprising, growth-driven owner-managed businesses, offering a full end-to-end accounting and business advisory experience for clients. The Praxis team can offer everything from basic compliance, through to high quality, partner-led collaborative accounting, advisory and taxation services using the latest in cloud and app-based technology.
Ambitious plans for the future of Praxis
As the Praxis firm grows, we're keen to expand the team and bring new talent into the business. We'll be happy to hear from experienced, tech-savvy accounting professionals looking for their next career opportunity, as Christopher Blunn highlights:
"We've got ambitious plans for Praxis. Between the three partners, we've got the experience and the capacity to scale up the business and offer what, I think, is a really fresh, modern, tech-enabled accounting experience for our clients. We've got the drive to grow the business, to build out on our existing sector specialism and the owner-manager niche, and to look at inbound business for larger international groups. We're looking to expand, bring people in and develop the kind of culture where collaboration and great client relationships can thrive and develop. In the fullness of time, it would be great to take on trainees, share our vision and build a unique culture and ethos that we can be proud of. I'm excited to see what the next 12 months bring for Praxis!"
The accounting industry needs good news at this point in 2020, and the founding of Praxis is a sign that entrepreneurship, enterprise and ambition are still very much alive and well in the accounting industry.
For more information, contact Praxis.
Next Post